On June 4, 2021, a player from Estonia hit the Mega Jackpot on the Mega Moolah slot machine. This progressive jackpot game pays the biggest casino jackpots on the internet.
Last month's winner took home €6,597,136.10 (CA$9.73 m), making it the second giant jackpot Mega Moolah jackpot in 2021. The previous win, on April 27, came in at €19,430,723 (CA$28.59 m). This crazy pot, won by a European, is the world record for the largest bank won at an online casino.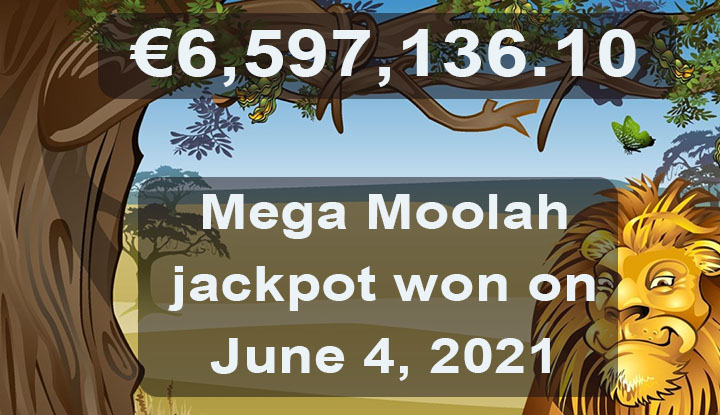 June 4, 2021 winner
Last month's winner is a member of the Optibet.com platform. Optibet is an online betting site reserved for players from Lithuania, Latvia, Estonia, Malta, Sweden and Curacao. Bettors have access to a variety of casino games via the casino's catalog. It's rare for large slot machine wins to occur at sports betting sites, but anything can happen when luck strikes. Unfortunately, we don't know more about the June 4, 2021 winner as they prefer to remain anonymous. Indeed, most players don't want to make themselves known when they become millionaires overnight.
Other Mega Moolah wins
Apart from the 1st prize of the game dishing out millions only to the luckiest players, players win the slot's 2nd prize almost every day. Every week players manage to land pots of over $10,000, and sometimes even over $100,000. When you trigger the game's bonus wheel, there are 20 segments marked with the four progressive jackpots. The Mega Jackpot segment is the most coveted, but the Major still pays well. As for the other two Mega Moolah pots, the Mini (+10) and the Minor (+100), aren't anywhere near as profitable.
Testimonials
Microgaming CEO John Coleman and Optibet website manager Chris Davis have spoken about the jackpot won on June 4, 2021.
I am delighted to see another big jackpot won shortly after the 19.4 million Mega Moolah prize won in April 2021. My congratulations go to Optibet and the jackpot winner. This is another big milestone for Microgaming, with the Estonian winning being the 100th millionaire in our online slots network.

John Coleman, CEO of Microgaming.
We were delighted to learn that one of our players hit the jackpot on the legendary Mega Moolah game. Not only was this the first giant jackpot hit on Optibet.com, it's also a massive multi-million dollar prize.

Chris Davis, Manager at Optibet.
Mega Moolah slot machine series
Microgaming operates Mega Moolah slots, the most successful web provider in the gambling industry. In Canada, the provider powers dozens of real money casino sites. The Mega Moolah games come in 12 different themes, yet they all fuel the Mega Jackpot, sending the game's pot to stratospheric levels. Each time a player wins the 1st prize, the jackpot reboots to 1 million.
Iconic Mega Moolah online casinos
The Mega Moolah slot machine network features in over 500 online casinos around the world. However, only a few out of these casino sites hold several insane Mega Moolah wins. In first place is the Grand Mondial site, an online casino with several big record wins from the Microgaming network. Then, two other casinos worth mentioning are Zodiac Casino, home to the biggest jackpot won by a Canadian player, and Jackpot City, which's also at the head of crazy wins.
These three brands are benchmark sites in Canada, loved by players looking for the best online casinos in Canada.
Try your luck with bonuses
Are you the type to try your luck on slot machines with big jackpots? If so, take a look at our Mega Moolah bonus page. Our guide's team maintains this page with the ultimate goal of always displaying Canada's most profitable bonus offer. In other words, bonuses offering you the best deal on your first real money deposits. Additionally, the recommended casino platforms all have loyalty programs that add bonuses to all your bets. You can obtain these bonuses once you accumulate enough credit points.