The online casino industry is vast and offers many options. There are over one hundred programs on the market that offer the opportunity to promote casino brands. Consequently making it a challenge to know which affiliate program to choose.
Casino affiliate programs
Out of a large selection of programs, only a handful can generate a good income and some operators and affiliate programs are untrustworthy. Even if they offer bloggers and affiliates partnership deals that may seem interesting, the results don't always amount to what one might hope.
Trusted partnership
If you're looking for a trusted partnership, on this page we have detailed certain features of some affiliations to help you pick. Our team has a long history of experience in the cyber casino industry, with some of our web editors starting in this business from the early 2000s. These experts can say which programs to recommend, which essentially tends to be those who pay and remain loyal to their affiliates.



On the other hand, they can provide tips on how to spot the types of programs to avoid. Undesirable programs are considered as "predators" by affiliates who have experienced their untrustworthy practices.

Experience is your best ally
The experience from finely honed affiliates proves that one should NEVER accept a "firm deal". Typically, an operator who spots a blog or casino guide that can bring in quality players will always ask to be better placed or presented on the affiliates' web pages. To do this, the tactic of the most aggressive affiliate programs is to offer a high REVSHARE over a period of 3 or 6 months and ask to be headlined on the most relevant pages of the affiliate site. To avoid unpleasant surprises and pressure, the best thing you can do is state that you only favor natural results in the mid and long term. Additionally, you should never promise better visibility unless you have long term proven results with it.
Compensation methods
Three common methods are proposed by default, and as an affiliate, you can choose the deal that seems most interesting.
REVSHARE: Percentage of revenue generated by your traffic. The percentage (gross) varies from 25% to 45% depending on the number of new players generated each month. This solution is often the most profitable in the long run.
CPA: Fixed payment on each registered player via affiliate tracking. The amount per unit varies according to the geographical origin. The quality of the audience from the affiliated site is also important.
HYBRID: A mix between REVSHARE and CPA. Generally, from $50 to $100 + 15% to 25% commission rate.
Proven programs
Our team of experts, who have long term experience in the online gambling industry, recommend the sites listed below. Each of these programs has proven itself to be loyal and honest. The deals put in place by these sites are up to standard and the percentage remuneration system (Revshare) produces the best results in the mid and long term. Consequently, it's important to note that these programs pay affiliates for life on player activity generated via their tracking codes.
1. Rewards Affiliates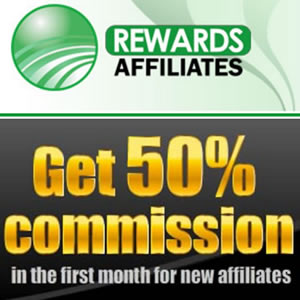 Click here to register
Operating for over 20 years, Rewards Affiliates is one of the true pioneers in the world of online gambling. It's promoted on known sites such as Zodiac Casino, Captain Cooks, Grand Mondial and is valued by slot machine fans. Rewards Affiliates produces equitable results and is active in major markets, such as; Canada, Europe and the UK.

Rewards Affiliates
Markets: UK, Canada, Scandinavia and Europe.
Brands: Zodiac Casino, Grand Mondial, Captain Cooks.

2. Buffalo Partners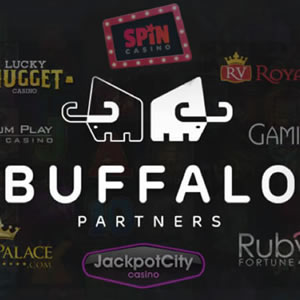 Click here to register
Buffalo Partners in the most active program on the internet and features a compensation system that is cost effective and efficient. Furthermore, it has a lifetime payment with the Revshare option, marketing tools and an effective campaign system. You can find it featured on long-standing brands in the gambling industry.

Buffalo Partners
Markets: Canada, Scandinavia, Latin America and Asia.
Brands: Spin Casino, Jackpot City, Gaming Club.

Other affiliate programs
Next in the list are other programs currently being tested. These offer effective support for the most active affiliates on the U.K and Europe and favor affiliates who can generate a large audience.

Presently, we can't confirm that Partner-Up, Genesis, Ivy and Mansion programs are trusted by affiliates. For gamers, however, their sites meet the most stringent requirements (Gate777.com, Sloty.com, Casimba.com and Casino.com).

In brief, if you have quality traffic of more than 30 unique visitors a day, you can be sure to receive monthly payments from your partner programs. If not, consider changing partners or reviewing your communication strategy. Any blogger or webmaster active in the online gambling industry should be receiving monthly commissions. If you are committed, the amount of commission collected should represent the equivalent (or more) of a salary.
Earnings
The revenue generated by affiliate accounts depends on several factors; number of visitors, quality of traffic, effectiveness of promotions and regions and countries targeted. In general, an affiliate account should produce positive results if the affiliate site is well referenced and sufficiently relevant.
Sometimes winners may have monthly results in negative territory. A reliable program has the policy of not impacting an affiliate if its traffic has brought winners. To do this, the program does not count the deductions linked to the players' big winnings in the following month.
Fees and deductions
The revenue estimation system considers the costs of operators. Firstly, the biggest charges are those related to free bonuses. This charge is represented by the bonuses offered to players and these bonuses are deducted from the results (partially or in full). Secondly, taxes can be deducted from commissions, equivalent to the VAT collected by some countries. Other expenses such as bookkeeping and administrative fees can also be counted.
Overall, all deductions represent 20% to 50% of the affiliate's results. To stay popular, affiliate programs tend to have high commissions, but in the end, the net results are not always what you should expect.
Gross and Net Income
To understand the details of the program calculation system, one must know the difference between the Gross Revenue and the Net Revenue. Typically, a 35% income share produces a net income of +/- 25%.
Lifetime payment – A lie or reality?
Being paid for life from players generated through an affiliate program may seem too good to be true. In recent years, the experience of many affiliates and stakeholders at www.onlinecasino.partners has allowed us to know a little more about this delicate subject. To the best of our knowledge, most programs require monthly results, with a minimum of six new players, as well as a rewarding position on the affiliate sites pages. In practice, an affiliate who can't generate more than five new players per month is unlikely to be able to live off his Webmaster activity. Please note, there are a few known programs who have the unfortunate tendency to "forget" to pay their affiliates, thus in our team's opinion, only the Rewards Affiliates and Buffalo Partners programs are recommendable.
Why some programs aren't paying?
Some programs are sadly known to be bad payers. The best way to detect them is to consult forums of Webmasters specialized in affiliation.
The markets to favor
The countries and regions offering the best opportunities are Canada, the UK, Germany, Italy, Asia, Latin America and the Scandinavian countries. Europe is an enticing market as each country has legalized online gambling. However, make sure to only promote certified casinos in each target country. In the US, the market is complex, it's important be cautious and precise as each state imposes its own rules and limits.
Programs and countries to avoid
In recent years these sites programs haven't respected their commitments with their affiliated partners: 888, Unibet, Ladbrokes, Bet365, Virgin and Sky (non-exhaustive list). Furthermore, programs that have a link with Curacao aren't always valid either due to dishonoured commitments and deplorable customer support.
Trusted countries
The countries most open to affiliates are, first, the United Kingdom, followed by Malta, Gibraltar, Switzerland and some European countries such as Spain, Italy and Portugal. Other countries are to be avoided, especially the USA, China, Russia and all Asian countries as the laws of these countries offer no guarantee to ensure a stable legal environment for affiliates.