On 5 April 2020, a Jackpot City Casino member won an impressive C$16,496,347 Mega jackpot on a progressive slot.

This winner joins the online casino's winners of the century list. It's been just over a year since a jackpot of this size was won. The previous giant jackpot, also taking place on the Mega Moolah slot, was in February 2019. Where over C$20 million was won on the Zodiac Casino site.

There have been other lucky players who've won several million at the Mega Moolah during this time, but never more than C$5 million. In September 2019, a Canadian player won over 4.7 million on Mega Moolah via Yukon Gold's site, a popular
online casino in Toronto
. There have also been several big wins at Jackpot City exceeding two million dollars. All in all, the
Mega Moolah
slot is a
millionaire-making factory
.
Mega Moolah's record winner on 5 April 2020
The only two things we know are that the player is Canadian and that he won at Jackpot City Casino. As is often the case, players who win big jackpots prefer to be discreet. It's easy to understand why you wouldn't want the world to know your identity. We don't have a testimony from the winner, nor do we have a photo of the winner with a giant check. Sometimes lucky players do publicize their jackpot wins, but not in this case. So, of course, their confidentiality is always respected. However, if we get to know more about this super winner from the 5 April, we'll let you know.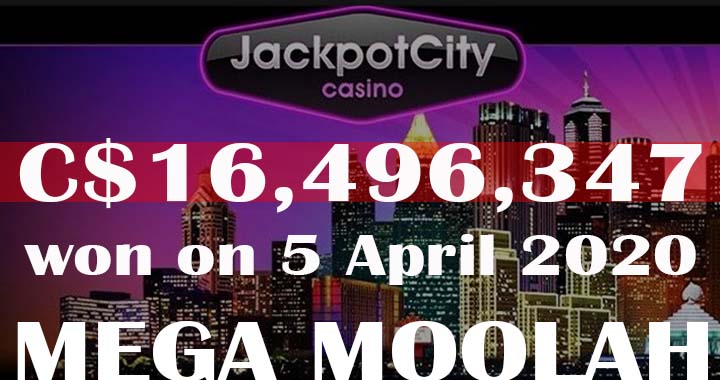 CHECK OUT JACKPOT CITY CASINO
Mega Moolah – Winners who become millionaires
Progressive slot machines are by far the ones that pay the most. Since Mega Moolah's launch in 2006, there have been hundreds of players who've won over a million on this slot. As you may already know, the Mega Moolah Mega Jackpot is programmed with a starting pot of one million. And, each time a player makes a bet, a proportion of it is added to the pot. If there's no Mega winner for several weeks in a row, the prize pool can become massive. Thus leading to record wins every year. Compared to other profitable slot machines, the Mega Moolah game is a real standout.
Try your luck on the Mega Moolah
You don't need to take too much risk when trying to win a fortune on the Mega Moolah. There are deals available for those on a small budget. And they aren't the only ones! Other reliable online casinos in Canada have affordable welcome offers too.

Currently the best offer comes from Zodiac Casino; with a C$1 starting bet and 80 spins of 25 cents on the Mega Moolah slot. This offer gives you the chance to win a pot worth over a million. However, for players who want to play big, there are plenty of options at Jackpot City. With Jackpot City, there's a total of C$1600 in bonuses on offer, but be prepared to invest the same amount of money.